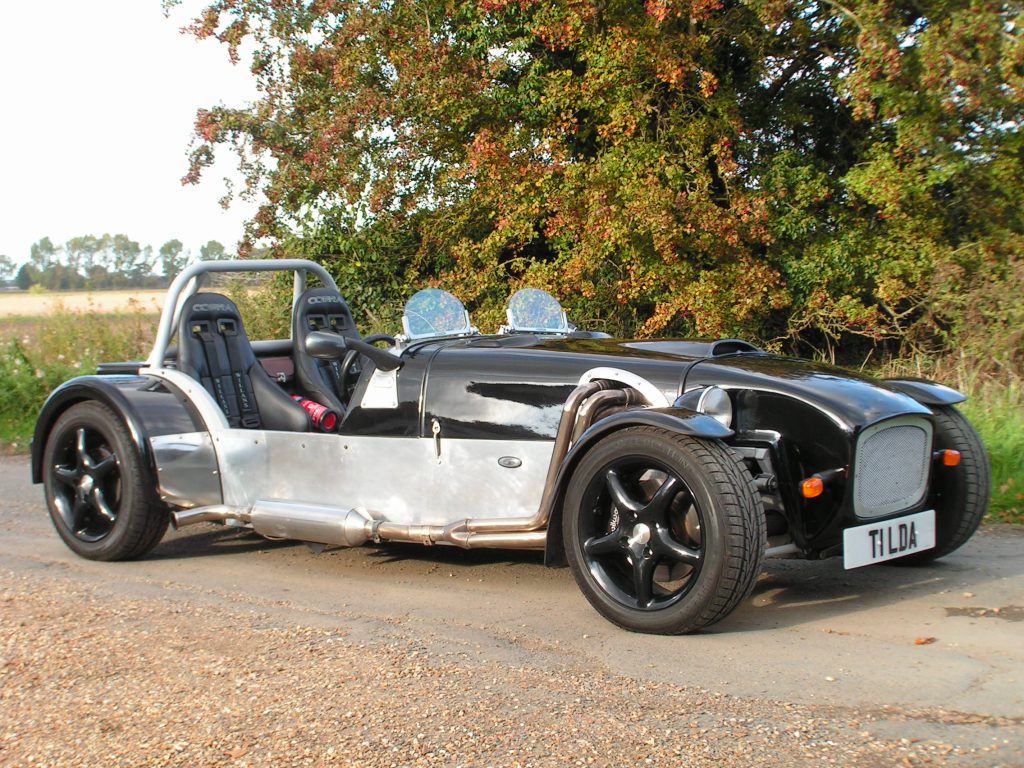 At 6ft3 and a mature weight (some say) current custodian of this fine LUEGO gets in and moves the seat forward to find the nicest spot to enjoy the drive.
One simply stands in the cockpit and sits down. No big issues getting in or out. But like all the 7 derivatives, once your in your part of the car.
Built from a new full kit in 2005 and SVA approved 2006 it was given its donor vehicle registration which was a bit of running gear from a ford sierra 2 litre.
Currently living in a heated garage.
Pampered by its owner who has an in house race engineer to look after his company fleet.
This has been used for nice days, early drives to the office and the odd fun track day.
A couple of years old very posh 4 wheel trailer can be purchased same time if this is your needs. Private number plate is not included, and LUEGO comes with F943MRA.
So whats it all about.
Engine is a 1993 cc pinto which has been to the tuners and back. Currently sitting at 2.1 litre with all the correct bits like twin dellorto DHLA carbs and full electronic ignition. Rolling road set up for ease of use and very easy choke cable starting with lovely instant tick over.
5 speed ford gearbox running into a independent rear suspension set up and a ford sierra diff arrangement. Probably the biggest improvement over the original lotus 7 that all the breeds DNA came from.
Without boring you senseless with data..everything done to this fine LUEGO sports has been done for a purpose.
Yes its used. But its been used from day one as an expensive fun thing to enjoy. And everything has a place.
Including the boot..yes it has a fair sized boot. All secure and locked. Immobiliser too.
And a most expensive momo works steering wheel that is weighed on the bottom for precise feel. With a famous history.
Driving is not the bump and bounce one expects.
The old school pinto suits the vehicle, oh boy it suits the vehicle..and is at home calmly driving around the one way system of the town just the same as it is doing 12 laps at blyton park or a nice weekend at val de vienne and an air b and b weekend.
This car does nothing badly. Its enjoyment before you open the garage.
Every trip is enjoyable and it will hold its own parked next to the most prestigious of stable mates .
The trip to silverstone grand prix living for a week in our motorhome at the BRDC members compound. Sharing a parking space with Vern Schuppans ferarri 250
And frank sytners space ship little bmw, saw the luego on shopping duties and collecting family.
A new business venture means no real time for next 24 months so its a shame to have the lovely LUEGO VELOCITY XL sit in its garage.
It would do it no good, it needs to be used and pampered.
A full tonneau cover for cock pit is included..which can be used if single person driving. As are little side covers to stop wind on the humans.
A very full portfolio of inception even from original purchase is included..as well as data..parts and invoices and actually what is in the car.
And if your not jockey size. But you can be, the LUEGO will cater for your size..weight and tall-ness in a way other lotus 7 type breed dream of.
So available as it sits. Or can include a posh trailer . Either way delivery worldwide or to your door can be quoted.
Its a very nice thing to own. Proper old school quality.
Marvellous.