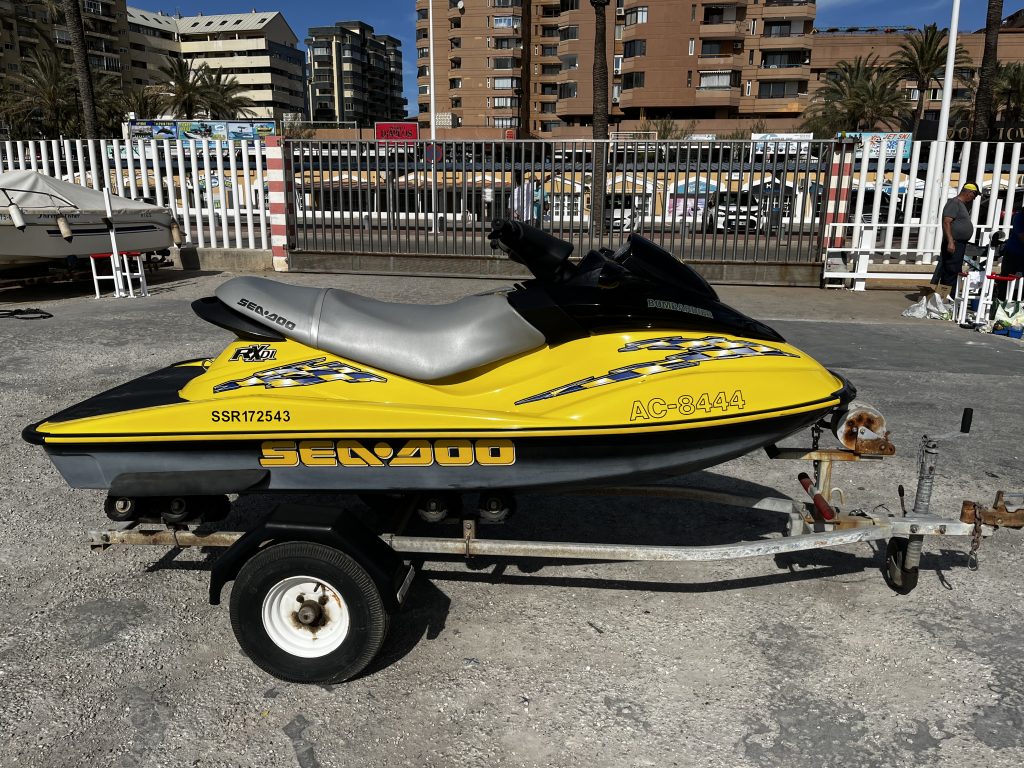 SEA-DOO RX DI.
YEAR 2000
2 PASSENGER
WEIGHT 257 KG
TWO STROKE DIRECT INJECTED ROTAX 947 DI
WATER COOLED
UNELADED REGULAR FUEL PLUS TWO STROKE OIL.
LENGTH 265 CM 113 INCHES.
WIDTH 120CM 47 INCHES.
56 LITRE TANK..BIG THING..
EXTRA ARE..
ONE PIECE SEAT FOR TWO PEOPLE.
SEAT STRAP.
HANDLEBAR MOUNTED STOP START BUTTON.
SAFETY LANYARD
D.E.S.S. KEY.
VAIABLE TRIM (VTS)
CHOKE LEVER.
SHIFT LEVER
SPEEDOMETER
MUTLIFUCTION GAUGE
GLOVE BOX
FUEL TANK GAUGE
FRONT STORAGE
TOOL KIT
REAR GRAB HANDLE
REAR STORAGE BAKET MOORING CLEATS
CARGO CLEATS
FOOTBOARD
BOARDING PADS
COOLING SYSTEM BLEED OUTLET
BILDGE DRAIN PLUGS
BOW AND STERN EYELETS
REVERSE GATE
LOCATED FUENGIROLA RAMPA SPAIN.
CURRENTLY LIVES IN PROFFESIONAL STORAGE WITH SECURE BOAT YARD.
MIGHT EVEN BE ABLE TO CARRY ON STORAGE IF REQUIRED. CAN CHECK.
ITS ON ITS ROAD TRAILER. WITH GOOD TYRES-BEARING-EVERYTHING READY TO USE.
BRING YOUR LIGHT BOARD OR WHATEVER.
BOAT HAS A LOVELY FULL COVER FOR STORAGE.
ITS AN OLDER ..BEST TYPE MODEL. YOUES YOU CAN GET NEWER BUT NOT BETTER.
TOTALLY FLUSHED AND CLEANED EVERY TIME OUT. IT IS KEPT FOR PLEASURE.
SO ANYTHING IT NEEDS GETS DONE AS DOWN TIME ENJOYING IS BAD TIME.
NO EXCUSES.
SIMPLY LOVELY AND FUN AND FAST. OR POOTLE AROUND THE RIVER-THE BAY..
CAN ALSO GET QUOTES FOR EUROPE UK DELIVERY IF REQUIRED.